So I've decided I want to do a Coyote Swap into the Drift Patrol. I need the revs, and really want the reliability of the new motor. The only way I can do that is by parting out the current motor/supercharger setup. I'm selling it ALL. From the MSD, blower setup, heads, intake, headers, etc etc etc.
I'll be posting up a detailed list with pictures over the next few days. Contact me for questions- please contact me directly @ dpracingdan@ gee mail dot com or you can even text me @ 650 eight three four three nyne nyne three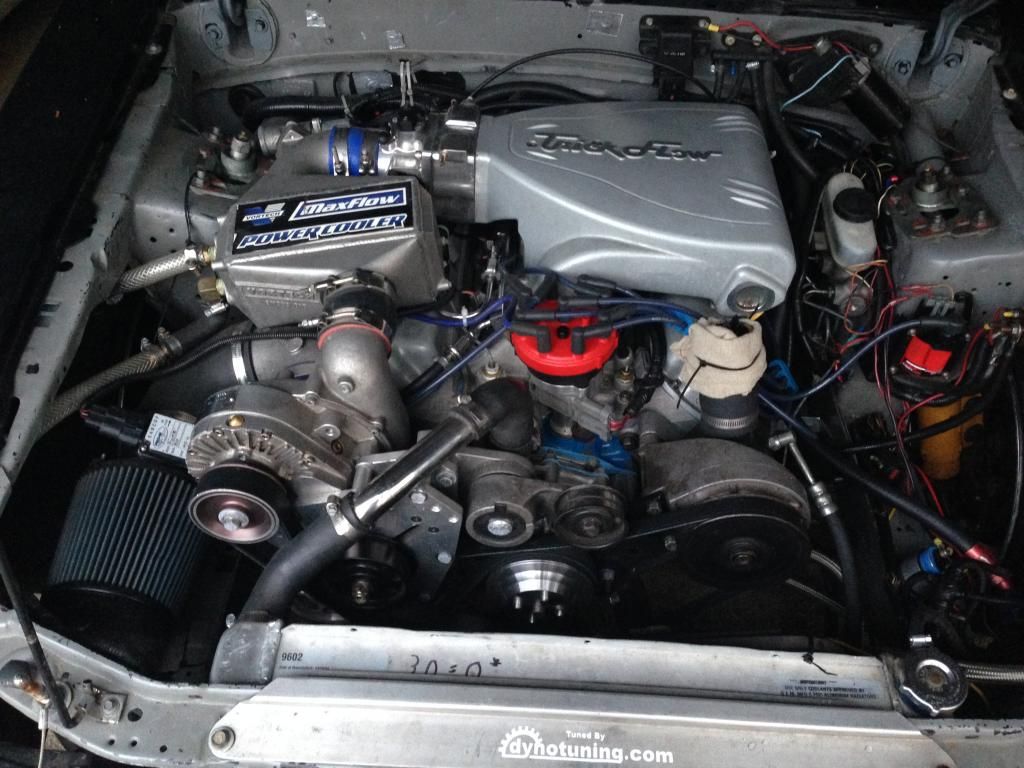 HERES a list of the parts I'm selling and prices. All these parts have about 10-hours of run-time max on them- many of them only a couple hours. This car is used for competition only- zero street use. All parts are used but in good working order. This car featured in the 2009 Ford Racing Parts catalog and 2009 Paxton Supercharger catalog.
Heads - fms-m6049z304da7?(with valves, springs, and hardware)( I had 220 valves cut down to 194s to work on regular SBF (5.0) (were from BOSS 347 crate motor) $1000
Rockers- M 6564 F351 $300
Headers- M-9430-ZM7993 (discontinued!) (shorty putting Z heads into fox w VHT ceramic paint) $250
Trick Flow Track Heat Upper and Lower Intake manifold- silver powder coat- $475
Complete Blower Setup - Paxton SL1200 w after-cooler, electric RV Water Pump, 4 gallon water cell, 04 Cobra Heat exchanger, Vortech Power cooler, Race Bracket Upgrade, Upgraded discharge Tube and Mondo BOV, Silicone couplers, T-clamps, 8-Rib Belt Setup, spare pulley, Spare 8-rib belts, couplers, tensioner pulley/brackets, (battery sized) after cooler tank, smaller electric water pump, 15' of 3/4" water plumbing etc. (this system would cost $6000 to emulate) $3000
Paxton Fuel Rails (blue annodized- never used) - $150
Alternator- 130 Amp 3G- $75
Smog Pump Delete- $50
AC Delete- $50
Mini Starter-$75
March Performance Front Mounted Power Steering Brackets- March Performance 30038 - $100
March Performance 1979-93 5.0L Ford Pulley Kits 2210 – Retail $100 - $75
60 lbs Fuel Injectors (2 hours old) – $400
MAF - $175
K&N Filter- $50
60lbs injectors and matching MAF (2 hours old) - $600
Adjustable Fuel Pressure Regulator – $75
A9P ECU -(2 hours old) $100
Throttle body and spacer - $175
Aluminum Water Pump- $50 (I have 2)
EGR- $25
IAC- $30
Wires- $50 (about 4 sets- FMS, Taylor, MSD, etc)
MSD Distributor- $225
Cap & Rotor – $30
MSD Coil- $30
MSD 6AL Box –$175
Trick Flow Valve Covers- Powder Coated Silver- (modified- 3/4" breathers added to each) -$75
CHICAGO