This car was my ORIGINAL CSP car that we converted to an H5 car. Turned out this was the better of the two cars. MUCH better body and setup. I purchased this car in 1995 with 70K miles as a street car when I first moved to VA. I have autocrossed it in stock and street prepared classes over the next 9 years, attended HPDE's with this car, and eventually converted it for H5/ITB competition. This is the car I won the ECHC H5 Championship in. Asking $4500 OBO.
Here are the details
Hondaworks (Kevin Helms) prepared engine (.040" over)
Custom 4.90 final drive (Houseman I believe)
OPM Limited Slip
24mm Torsion Bars
350lbs. Eibach rear springs
Tokiko Illumina struts front & rear
Energy Suspension bushings F & R
Lightspeed rear sway bar
Front sway bar disconnect
OPM Camber plates
Kirkey Racing Seat
Custom Roll Cage w/NASCAR bars on driver's side
7 Panasport Pro Rally Wheels (there was an 8th, but it got damaged) w/ Toyo RA1 tires shaved
4 CRX Si rims with full depth Toyo RA1 tires
Lightned flywheel (I have the original one for SCCA)
There are also TONS of spares for this car (as in bring a truck and trailer).
The car will need new restraint harnesses. Also, the G-Tech Pro and lap timer in the updated pictures do not go with the car as they do not belong to me.
Currently this car holds the H5 record at CMP and VIR North
http://nasaracing.net/track_records.htm
There are 2 areas of body damage.
1. The left front corner had to be pulled. Everything lines up but the headlight is a little crooked.
2. I was hit on the R/R quarter panel as I was sliding through Turn 17 at VIR. I don't recommend it. We were able to beat the panel back out and the car has not suffered any ill effects. In fact, I now have the camber I desired in the R/R (still need to shim the left).
Please let me know if you have any questions.
The current image gallery can be found at:
http://s374.photobucket.com/albums/oo187/spec3racer/ITB%20H5%20CIvic/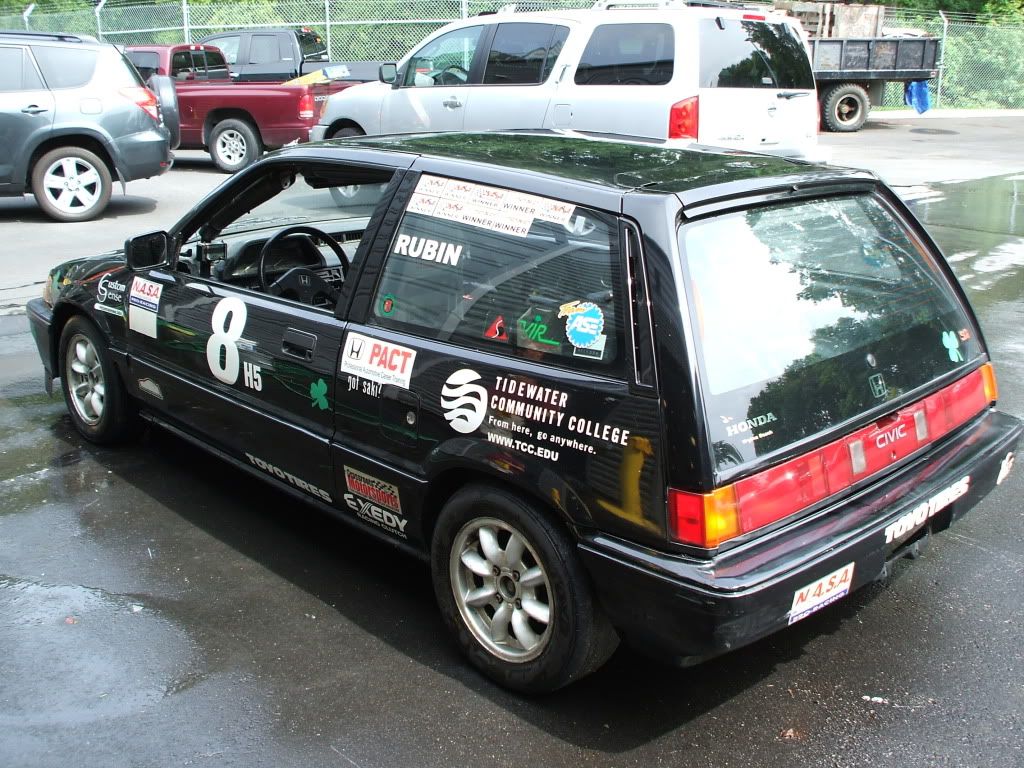 Beno