The ST5 rules impose a penalty on cars with upper a-arms of wishbones. As an example they list Miata's, S2000s and Boxsters however I don't believe Boxster's fit into this category. Boxster's don't have an upper a-arm, or wishbone on the front or back and instead have their wheel's position controlled by the strut housing with a MacPherson design. What do you guys think?
"2) If the vehicle has an OEM suspension design utilizing an upper "A-arm" or "Wishbone" type control arm on either the front or rear suspension, a Modification
Factor will be assessed. Conversion from an alternate design to an "A-arm" or "Wishbone" suspension design using non-OEM parts is not permitted
As an example of the difference here's a typical A-arm on a Miata and a Boxster setup
Miata
Boxster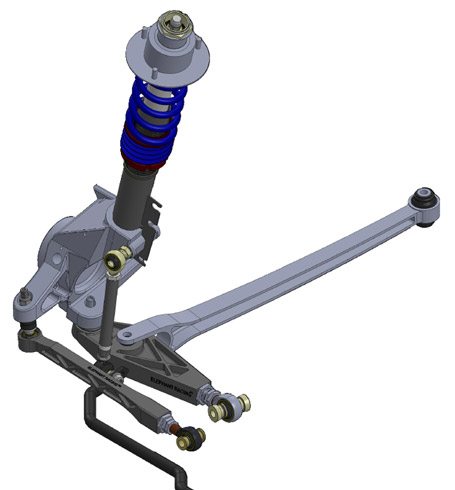 Wikipedia definition of an A-arm suspension
"An automobiles, a double wishbone suspension is an independent suspension design using two (occasionally parallel) wishbone-shaped arms to locate the wheel. Each wishbone or arm has two mounting points to the chassis and one joint at the knuckle. The shock absorber and coil spring mount to the wishbones to control vertical movement. Double wishbone designs allow the engineer to carefully control the motion of the wheel throughout suspension travel, controlling such parameters as camber angle, caster angle, toe pattern, roll center height, scrub radius, scuff and more."